We are excited to announce that Telerivet is now available as an app for iPhones and iPads, as well as Android phones and tablets.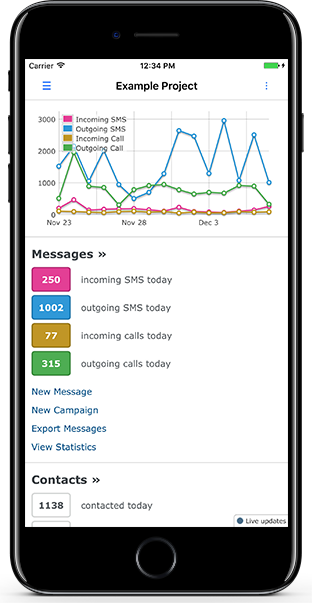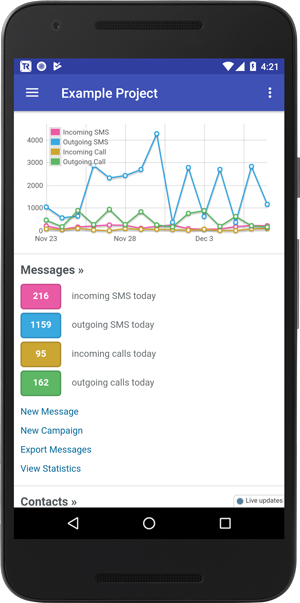 You can use the app to send and schedule broadcasts, view and edit contacts, manage automated services, and more. Almost anything you can do from your web browser, you can do on the go.
In addition, the iOS and Android apps let you get (optional) notifications of incoming messages. If someone sends a text message to your virtual number, you can read the message and reply directly from your phone.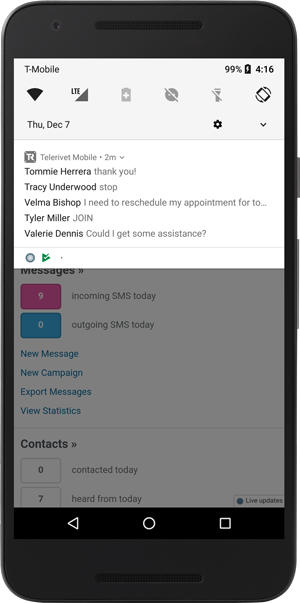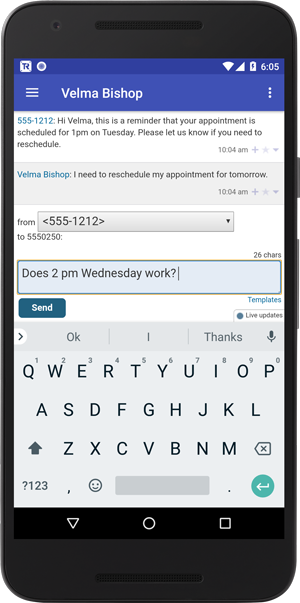 Since Telerivet runs in the cloud, you can switch back and forth between the smartphone app and the web dashboard at any time.
When using the app, text messages and voice calls are sent and received via third-party providers such as Nexmo, not via your personal phone. When you send SMS messages or calls from the app, your contacts will see your organization's sender or caller ID (as configured in your Telerivet account), not your personal phone number.
The iPhone and iPad app supports iOS 10.0 and above. The Android app works on Android 4.4 or above.
To try it out, install the app on your phone below:
Two Telerivet Android apps
As you may know, Telerivet already had an Android app that turns an Android phone into a SMS gateway in any country. The new Android app, however, does not turn your phone into an SMS gateway.
Telerivet's original SMS gateway app is still available, and it will continue to be supported and developed. There are just two separate Telerivet Android apps now because they serve different purposes.
To avoid confusion between the two Telerivet Android apps, the original Telerivet Android app has been renamed to "Telerivet Gateway". The Telerivet Gateway app lets you use Telerivet to send and receive SMS messages in any country via that Android phone's SIM card. Typically, users will dedicate a phone specifically for the Telerivet Gateway app, and won't use it as a normal mobile phone.
The main screen of the Telerivet Gateway app: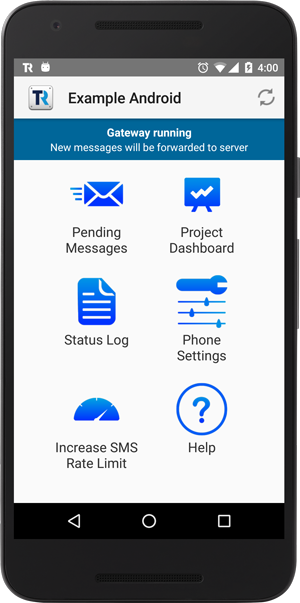 On the other hand, the new Android app is named "Telerivet Mobile". Telerivet Mobile lets you access Telerivet's mobile messaging platform from your phone, and receive notifications. Telerivet Mobile is meant to be used on your personal mobile phone — and if you invite your team to use Telerivet, everyone can install Telerivet Mobile on their phones too. (There are no limits on the number of phones that can run the Telerivet Mobile app.)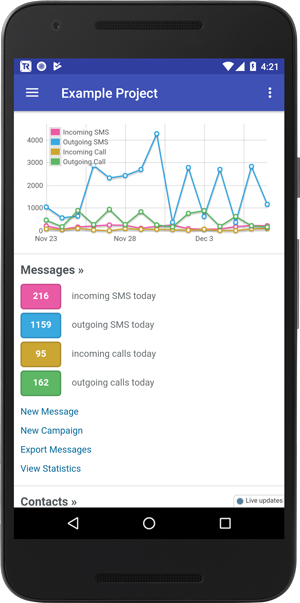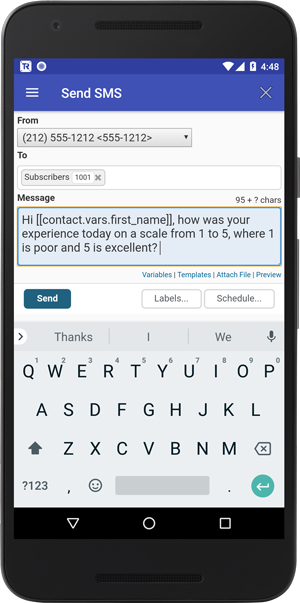 Any SMS messages that you send from the Telerivet Mobile app will be sent via the SMS gateway you have configured in your Telerivet account. This may be a provider like Nexmo, or it could be an Android phone running the Telerivet Gateway app. (It is possible to run the Telerivet Mobile app and the Telerivet Gateway app on different Android phones, or the same phone.)
We're excited to hear your feedback on the new Android and iOS apps — let us know what you think at support@telerivet.com.