Flexible SMS messaging options
Telerivet supports multiple different ways of sending and receiving SMS messages.
Choose the gateway that works best for your use case.
Integrate with chat apps and third-party messaging APIs
Telerivet can integrate with a wide range of third-party messaging APIs, whether it's a local SMS gateway in your country, or a chat app like WhatsApp or Viber.
Powerful, scalable messaging platform
Telerivet has a wide range of features for managing your organization's text messaging, supporting high message volumes and advanced use cases.
Send and view text messages in your browser
Easily send text messages from any computer or smartphone, while managing incoming responses. Search and view the conversation history for each contact.
Schedule messages and calls
Streamline communication by scheduling messages and calls for particular times or recurring intervals – great for appointment and event reminders.
Scalable messaging capacity
Need to send and receive thousands – or millions – of text messages a day? Not a problem.
Increase your message capacity by connecting multiple virtual phone numbers, SMS shortcodes, or Android phones.
Send trackable short links and multimedia
Telerivet can automatically shorten URLs in text messages and track clicks, so you can see who interacts with your messages. Send opt-out links to make it easy for contacts to unsubscribe.
Send and receive multimedia messages (MMS), or convert media attachments into trackable short links in a regular SMS.

Real-time monitoring and alerts
Receive instant email notifications if your automated services or phones experience problems, so you can fix any issues promptly.
If you use an Android phone to send and receive SMS, Telerivet makes it easy to remotely monitor your phone's connection status and battery level from any web browser.
Custom message routes
When you connect multiple phone numbers to Telerivet, you can define custom rules to determine which routes send which messages.
Load-balance your messages among multiple phones, increase reliability by avoiding inactive phones, or decrease your SMS costs by keeping your SMS messages in-network.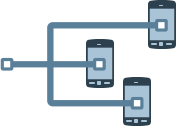 Automate your mobile messaging
Telerivet makes it easy to create polls, auto-replies, chatbots, and more.
Seamlessly integrate with your own applications and third-party systems.
Subscriptions
Allow contacts to subscribe or unsubscribe by texting keywords like START or STOP.
Auto-replies
Send welcome messages to new contacts, or tailor responses to incoming keywords like HELP.
Polls and surveys
Ask multiple-choice or open-ended questions and collect responses.
Rules Engine
Define custom actions to handle incoming text messages – no programming required.
Create if/then conditions to match particular keywords. Automatically send text replies, organize messages, send email notifications, or update contact information.
Developer API
Use Telerivet's robust APIs to enable your own applications to send and receive text messages anywhere in the world.
Send text messages from your application via the REST API, and receive notifications of new messages via the Webhook API. Build custom automations in JavaScript via the Cloud Script API.
Trusted by

Recommended Options by Country
Select your country below to see which methods Telerivet recommends for sending and receiving SMS: