In the past 5 years, thousands of organizations across more than 150 countries have relied on Telerivet to send and receive text messages. Today, we're excited to announce the launch of Telerivet Voice, which organizations can use to automate voice calls with their customers, employees, and community.
Telerivet makes it easier than ever to build your own interactive voice response (IVR) menus and call flows, run voice polling campaigns, send automated voice broadcasts, and send voice calls using a virtual caller ID. You can do it all from your browser, with no programming required. In minutes, you can get a local virtual number in over 60 countries, and send and receive calls worldwide.
Businesses and non-profits can use Telerivet Voice for a wide variety of use cases, including customer support, data collection, market research, alerting, phone-banking, audience engagement, and more.
Whirlwind Consulting, a boutique political consultancy specializing in statewide initiative and candidate political campaigns, has been using Telerivet Voice to make outbound calls. "Telerivet allows our consultants to reach any of our clients, employees and even voters from one platform," says Whirlwind founder Jordan DeCoster. "Its combination of light-weight interface and multi-channel options keeps each contact in one place, regardless of the method of communication (text and voice)."
For more advanced use cases, Telerivet Voice is developer-friendly. In Kenya, the Uliza project has been piloting an innovative IVR system that allows Kenyans to call in to a local virtual number and record a question in Swahili. A distributed, crowd-sourced team records an answer to the user's question, and the system calls the user back with the answer. "We have been able to build a complex voice-data processing tool with the help of Telerivet's voice features," says Grant Bridgman, founder of Uliza. "We are particularly excited about the new JavaScript interface, which allows us to add greater flexibility to how our services interact with our clients."
Get started in minutes
Telerivet Voice is integrated seamlessly into the same Telerivet web dashboard that users all over the world have relied on over the past 5 years.
To try it out, log in to your Telerivet dashboard (if you don't have one yet, create a free account).
The Services page is where you can configure custom IVR call flows, automated voice polls, or simply set up call forwarding or voicemail. On the Services page, add a new service and click the Voice tab, then click the type of service you want to set up: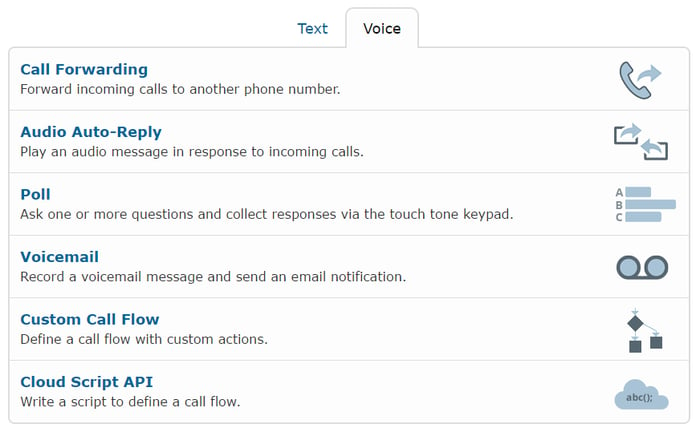 To see the full power of Telerivet Voice, create a Custom Call Flow. Click one of the examples on the top-right to explore how to create your IVR system using Telerivet's drag-and-drop interface: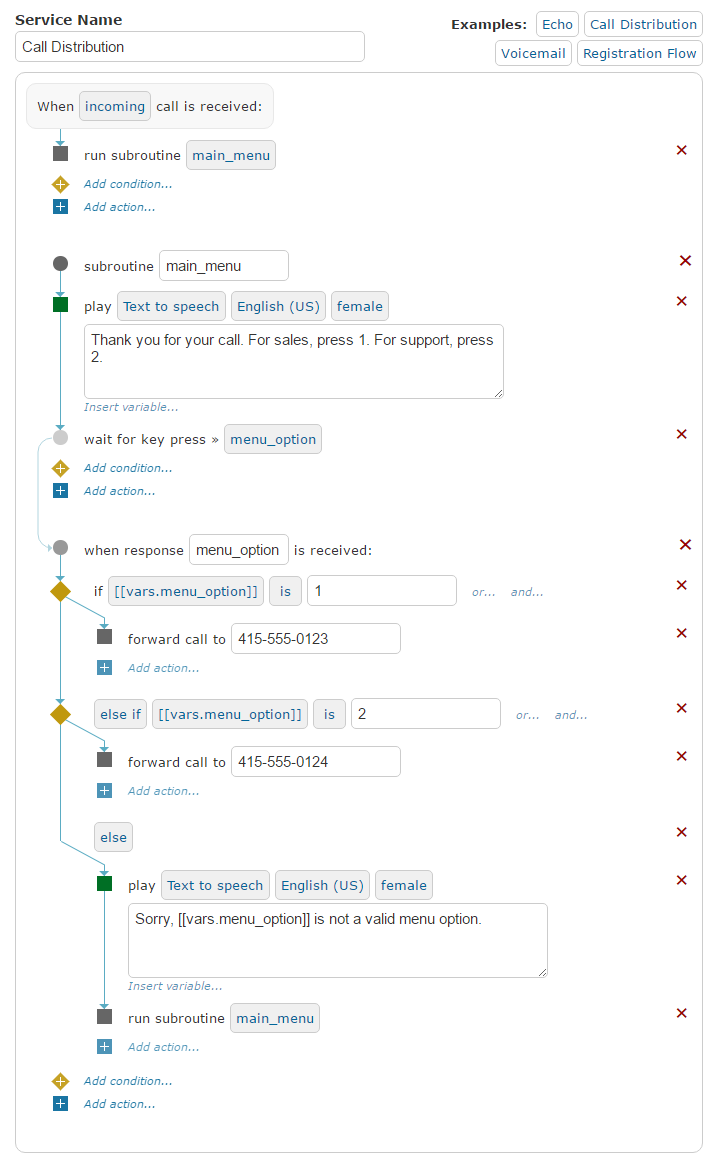 To see the different types of actions that you can use to create a call flow, click "Add action". Call flows can play text-to-speech or recorded audio, prompt for a key press or multiple digits, forward the call, record audio from the caller, and much more.
To make outbound voice calls, go to the Messages or Contacts page and click the "Call" dropdown.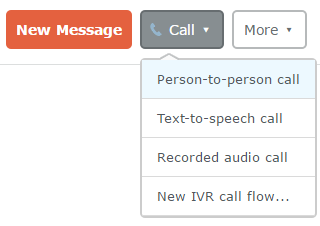 You can test Telerivet Voice in your browser even if you don't have a voice-enabled virtual number, but in order to send and receive actual voice calls you'll need to set up a virtual number on the Phones page.
(If you've been using Telerivet Android app as the SMS gateway, note that the Android app does not support Telerivet Voice due to technical limitations. You would need to add a voice-enabled virtual number in order to use the voice functionality.)
To learn more about how you can use Telerivet voice, visit https://telerivet.com/voice. For more details on how to use all the new features, visit the User Guide.
We are excited to hear your feedback, and discuss how Telerivet Voice might help your organization. Get in touch by emailing us at support@telerivet.com .