The most widespread Ebola virus epidemic in history began in 2013 and continued for over two years, infecting tens of thousands of people and causing social and economic devastation on a frightening scale. The outbreak was largely focused in three West African countries, and it was only through the herculean efforts of thousands of community leaders, educators, doctors, nurses, and public health workers that a much wider outbreak was avoided.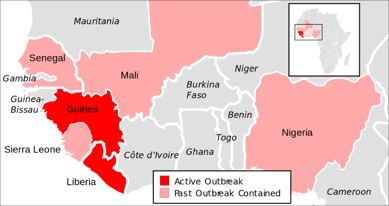 Simplified Ebola virus Africa epidemic situation map (December 2013 – January 2016)
Tackling such a public health crisis requires a tremendous level of field coordination and information sharing in challenging environments, and eHealth Africa has been a technology leader in meeting these challenges during the Ebola outbreak. eHealth Africa is a US-African NGO focused on developing and implementing technology solutions that connect and deliver public health services and commodities to underserved communities across the African continent.
We are proud that Telerivet plays a part in eHealth Africa's technology solutions to such important problems. "During the Ebola outbreak in West Africa, we needed to rapidly develop solutions to logistical challenges that had never previously been encountered," says Didi Hoffmann, CTO of eHealth Africa. "Telerivet allowed us to do this with a minimum of code, in a manner that was both reliable and scalable."
Directing Local Dispatch Teams via SMS
At the height of the 2014 Ebola outbreak in West Africa, eHealth Africa rolled out call centers in three of the affected countries, which all ran on a web-based application that allowed operators to log and respond to reports of new cases. These operators would then pass on necessary information to local dispatch teams, who would quarantine and treat these cases.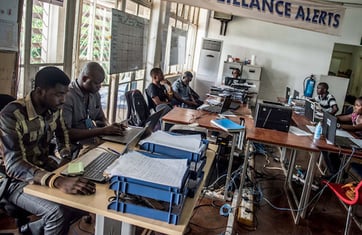 In the affected countries where local dispatch teams often did not have internet access, SMS was the only viable medium for passing this information. In order to enable their application to send and receive SMS messages, eHealth Africa turned to Telerivet.
"Telerivet enabled us to rapidly prototype SMS based solutions and scale with the outbreak of Ebola in West Africa." – Didi Hoffmann, CTO of eHealth Africa
Telerivet's REST API and Webhook API provided an easy way for eHealth Africa's Node.js application to send and receive SMS. According to eHealth Africa's CTO, Didi Hoffmann, "Telerivet's simple REST API and client wrappers made it the obvious choice as a messaging platform."
In Sierra Leone and Guinea, where eHealth Africa acquired three SMS shortcodes from local mobile network operators, Telerivet integrated directly with the mobile networks' systems. In addition, Telerivet's Android app enabled eHealth Africa to send and receive SMS messages throughout West Africa without needing a mobile network integration.
Notifying Relatives of a Patient's Location via SMS
Rapid quarantining of infected individuals, a major part of the fight against Ebola, was done in Emergency Treatment Units (ETUs). But it soon became apparent that there was a lack of trust: once a patient had entered an ETU, there was no way of informing relatives of their status or whereabouts. As a result, patients would refuse to enter the ETUs, a factor that contributed to the ongoing spread of the disease.
To counter this, eHealth Africa developed Trace and Go, an open source application that notifies relatives and loved ones of the status and location of patients via SMS, using the Telerivet REST API to send messages.
"Once again we used Telerivet as a messaging platform; once again it helped us to save lives."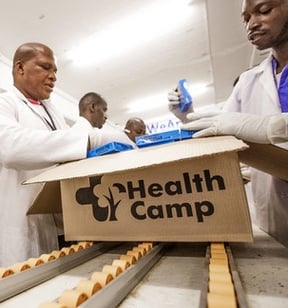 See how other healthcare organizations are using Telerivet to improve communication and public health, or check out Telerivet for yourself at telerivet.com