Researching working conditions via IVR surveys
&Wider develops tools for businesses to engage directly with workers along their entire supply chain, aiming to make working conditions visible so that employers and buyers from workplaces across the globe can identify what needs to change in order to improve workers' lives.
&Wider uses Telerivet to deliver on its mission of gathering insights on working conditions directly from workers across a multitude of supply chains around the globe. Using Telerivet, &Wider creates interactive voice response (IVR) surveys containing a series of multiple choice questions that workers can answer by pressing a key on their phone keypad.
After defining the questions in each survey, &Wider schedules the surveys to be sent to groups of workers at various times across multiple time zones. As workers respond, Telerivet processes many voice calls simultaneously. &Wider uses Telerivet's web dashboard to monitor the progress of the calls in real-time.
Telerivet's Cloud Script API enables &Wider to implement IVR surveys with custom logic in JavaScript, without needing to run their own servers. In addition, Telerivet allows &Wider to easily switch between different voice API providers, such as Twilio and Vonage, depending on which provider offers the best call quality or the most affordable rates in a particular country. Telerivet allows &Wider to avoid dealing with the complexities of each provider's voice API, allowing them to easily define IVR call flows that can work with any voice API.
Workers' survey responses are stored in custom data tables on Telerivet's servers, allowing &Wider to view and analyze live data as soon as it is received. Telerivet's web dashboard also gives &Wider an overview of their daily operations, where they can view overall statistics and drill into the statistics for each broadcast.
After the surveys are complete, &Wider exports response data in order to display aggregated statistics in their own web application, without the risk of employers being able to associate responses with individual workers.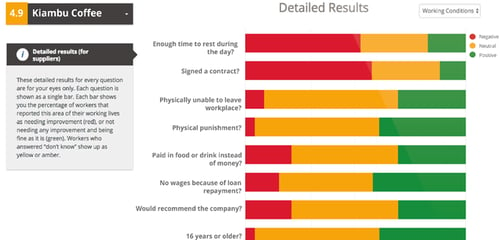 "We aim to reach 1 million workers within the coming two years, and that scale would not be possible without our partnership with Telerivet. Telerivet enables us to reach anywhere through multiple IVR providers and this gives us the agility to reach any worker anywhere."
Kudakwashe Kandemiiri
Technology Delivery Lead