Audience interaction with an SMS counseling and advice hotline
Femina Hip is a multimedia platform and a civil society initiative working with youth across Tanzania. Since 1999, their aim has been to promote healthy lifestyles, sexual health, gender equality, entrepreneurship, and financial literacy.
Producing magazines, television and radio programs, online and social media products, Femina Hip is at the forefront of innovative strategic communication methods, edutainment, and participatory editorial content production in Tanzania.
In order to reinforce their message via SMS, Femina Hip uses Telerivet for several different activities:
Providing advice via an SMS hotline
Femina Hip created an SMS counseling hotline after realizing that many Tanzanian youth are more comfortable asking sensitive questions via SMS compared to other communication channels. With this SMS hotline, Tanzanian youth can send in their questions relating to sexual and reproductive health, economic empowerment, and citizen engagement. A member of Femina's outreach team receives the question via Telerivet, and sends a personalized response. In each issue of Fema Magazine, Femina's team publishes some of the SMS questions in the column "Mpendwa Anti" (Dear Auntie).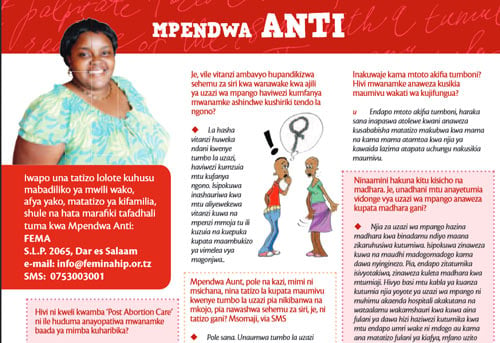 "Being able to have multiple people working with the system simultaneously, with each person sending their own messages, is what makes providing this counseling service possible."
Monitoring magazine distribution via SMS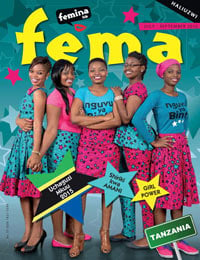 Femina Hip's primary media product, Fema Magazine, is distributed to over 2,500 secondary schools in all corners of Tanzania. Previously, it was a challenge for Fema to verify that distributors actually delivered the magazine. In order to ensure that magazines are being delivered on time, Femina asks teachers to send an SMS when they receive each issue.
Pushing out information to communities
Femina Hip uses Telerivet to periodically send out information to their audience, especially to inform them about new upcoming media products, such as new seasons of their television and radio shows.
Live audience interaction
Femina Hip's television and radio shows now have an audience interaction component to them that is run through an SMS system. During each episode a "question of the week" is asked, and audience members are asked to send an SMS answer. Responses are read by Femina Hip staff, and each week a winner is chosen and receives a prize. This is done to incentivize active viewership and listenership.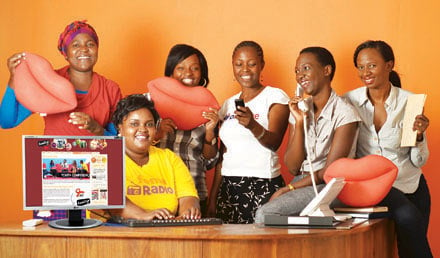 "The biggest result for us has been the huge improvement in our ability to respond to questions from our audience. With previous systems, the staff member managing the system would periodically have to export questions into a spreadsheet which would then be shared with staff to answer. After receiving answers, he would then send the responses one at a time. This was very time consuming, and meant that a large number of messages could not be responded to promptly (if at all). Now we are sending out hundreds of messages per week, and our response time has dropped dramatically."
Simple SMS registration
Femina Hip has a large network of over 700 "Fema" Clubs in secondary schools throughout Tanzania, with more clubs forming every year. In the past, new clubs registered with Femina Hip through postal letter or email, both of which are problematic in rural areas. Now, an automated survey allows club teachers to register their club via SMS. Since this service's inception late in 2014, it has facilitated the registration of nearly 200 clubs.
"We ultimately decided on Telerivet due to the low cost of running the service, its reliability, its ease of use for non-technically proficient staff, and its wide array of built-in automated services. After switching to Telerivet, we are able to do so much more."