Simplifying event planning by automating outreach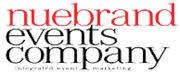 Nuebrand is an Events Management company headquartered in Dar es Salaam Tanzania, that connects hundreds of service providers and thousands of SMEs at Nuebrand's annual conferences and other events. Nuebrand Events Company's sole purpose is to create a unique and stimulating environment for knowledge and intellectual capital transfer. Nuebrand's main events are focused on ICT and financial services.
Nuebrand uses Telerivet as a communication and customer data aggregation platform. Nuebrand's contacts are loaded onto their Telerivet-powered client contacts list. Previously, Nuebrand had to individually message each event attendee to increase participation and maximize the events' impact. This was costly and time-consuming.
With Telerivet, Nuebrand has been able to save time by automating their outreach efforts, reaching more possible attendees in a shorter time-frame.