Virtual concierge and personal assistant via SMS

Based in Jakarta, Indonesia, YesBoss is a text-based virtual personal assistant service with the mission of making people's life easier every day by saving their time.
YesBoss users can simply text the service, and YesBoss will get them anything, anytime, anywhere – they will deliver food, book a flight to Bali, buy movie tickets, book a table for dinner, send flowers to a loved one, or provide tips on a wide range of topics. It's all as simple as sending a text to YesBoss.
For SMS-based startups like YesBoss, Telerivet's mobile messaging platform makes it easier than ever to provide service via SMS.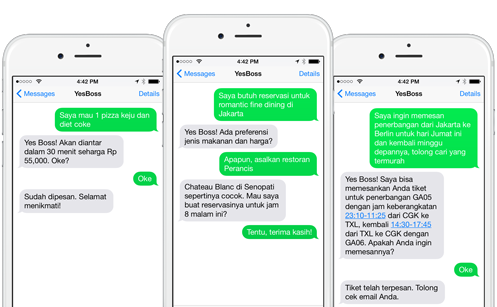 Robust Web Dashboard for SMS Virtual Assistants
YesBoss uses Telerivet's online dashboard for their day-to-day operation in fulfilling customers' requests. Each of YesBoss' team members has access to Telerivet's web dashboard, and can easily review and respond to requests through a shared phone number. With the support of Telerivet's platform, YesBoss processes tens of thousands of customer requests every month.
Under the hood, YesBoss uses Telerivet's built-in integration with Vonage, which provides the capability of sending and receiving SMS in Indonesia via a virtual mobile number. In addition, Telerivet's REST API and Webhook API enable YesBoss to easily synchronize data between Telerivet and their own back-end systems.
Making SMS-Based Startups Easier
Just as YesBoss makes people's lives easier by saving their time, Telerivet makes YesBoss's business easier by saving their time.
Using Telerivet lets YesBoss focus on their core business without needing to spend valuable time and engineering resources building an SMS dashboard for their team. By making the technology component simple and easy, Telerivet lets SMS-based startups like YesBoss bring their service to market as quickly as possible.